As Tata Safari Storme, code named Merlin gears for India launch in the months of May-June and XUV500 finds it an onerous task to meet, forget surpass, customer demands, can Tata Motors pitch in the Safari at just the right time and take advantage or will XUV 500′s carrot stew continue to give us hunger pangs? We find out. 
Looks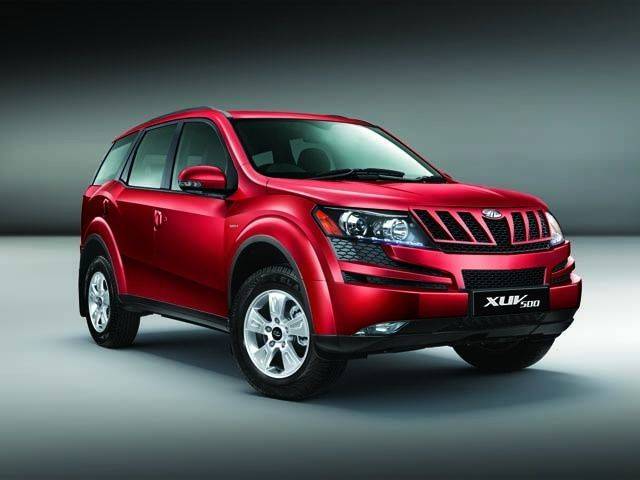 Mahindra XUV 500 is a winner, look at the way it is sculptured, the upright stance with muscular wheel arches, Cheetah-like curves especially just below the quarter glass and of course the dual light headlamps with day time LED , wrapped around the bonnet in a pretty fashion. Safari Storme does not seem to have changed at all, it is similar to the x-gen to the extent that it gets disappointing. There really is no muscle about the car and it appears to have surrendered to the Cheetah straightaway. However a closer look tells you a different story, we just post a picture down here for the real face off.
Look closer and Tata Safari flaunts squared off headlamps, stylishly wrapped around with an organic hue, a thick chrome strip overlooks the plastic honeycomb grille, there are also fog lamps with chrome browline, recessed into the front apron, the fascia is not really intimidating but beautiful. We now feel more equipped to compare the two cars, the XUV 500 is a muscular SUV, with a pouncing Cheetah tinge to it and the Safari Storme  is an SUV with a nonchalant demeanor and a submissive profile which is appealing, no doubt. Though from a distance Safari Storme seems to be no different from the x-gen Safari but there are rich chrome accents in detail.
If intimidating exterior is what you are after, check out the Safari in its off road avatar.
The bespoke Safari sporting thick plastic cladding, chunky fog lamps housed in bumper protectors, the magnetic needle tattoo at the bonnet top, showcases its serious off road capabilities, now this is all why someone would buy a Safari Storme, to take it to the dirt tracks. The roof racks at the top and bicycle stands at the rear would make your camping experience all the more pleasurable and comfortable. Simply put, even the desert did not expect sandstorm on wheels.
Interiors
Tata Safari Storme 2012 Interiors 
Tata Safari is devoid of any materialistic pleasures, chrome lined knobs are the only appealing things on the central console, rest everything, makes it look outdated before the relatively urbane XUV 500. The XUV with steering mounted controls, double DIN music, full fledged Driver Information System with tyre pressure check, cabin temperature controls, GPS, looks very cosmopolitan and it is a place where you would rather want to be, Safari however misses the urban spunk on the insides. Are we disappointed? Not really, a large family with enough disposable income can actually have both of these, so one's a city commute to transport the large family around and flaunt the SUV to the relatives and friends and brag about its suave interiors, the other's for camping fun and frolic, do we even need to tell which one's which?
The real face off
Tata Safari Storme shares a lot of underpinnings with the Aria, the old Safari had torsion beam at the front which has now been replaced by Aria's double wishbone and McPherson strut. As opposed to XUV 500′s all time AWD that detects wheelspin and directs torque to all wheels, Tata Safari Storme features a separate transfer case with shift-on-fly mechanism with low ratios for greater traction on dirt tracks.
But the only grouse we have is Safrai Storme has a horrendous turn radius of 10.2 m, XUV 500 on the other hand gets a much manageable, city biased 5.4 m of turn radius. Mahindra XUV 500 is more practical in bumper to bumper city driving, it gets the Scorpio's 2.2 L mHawk motor with micro hybrid to turn the engine off at stop lights and save fuel on fly, Safari Storme has 2.2 L DICOR motor and both the engines outgun a fairly impressive 140 bhp.
Verdict
Mahindra XUV 500 is any day a greater value for money with an array of luxury features and plethora of controls, but considering the long waiting period on it, Safari Storme's move at just the right time could be a massive game changer.
XUV 500′s lack of availability has been the breeding ground of black market and Safari has good time to take the spotlight on to itself. But the lackluster equipment list, especially the single DIN music system in the car of 21st century, despite the neck to neck costs of the two, could wreck havoc for the brand, and inevitably the scapegoat will be XUV 500′s intimidating dominance in the segment!
For the buyers:
Mahindra XUV 500 still has a heavy waiting period of 5-6 months. Expect Tata Safari Storme launch date to be in the months of May-June 2012 and expect its price to be 9 to 10 lacs, Mahindra XUV 500 retails at a starting price of Rs.11 Lacs and features in three variants, W6 (basic), W8 and W8 AWD.
KEYWRODS: : X Tata Safari StormeX Mahindra XUV 500X tata safari storme vs mahindra xuv500X mahindra xuv 500 vs tata safari stormeX tata safari storm vs xuv 500X tata safari storme launch dateX mahindra xuv 500 waiting periodX tata safari storme priceX tata safari storme featuresX tata safari storme all wheel drive. tata safari storme launch in IndiaX tata safari storm vs mahendra cave 500